Hello Aussie Pilgrims! I am Garry, an Aussie who has been living here in Santiago de Compostela for many many years. I organise a self-guided and guided walks (and cycle rides) on the various Caminos… So here are my thoughts on Santiago, and the camino, during COVID.
Covid19 struck here, like most countries in March 2020 and resulted in a quick hard lockdown here in Santiago – all except food and medical places closed and we were only allowed out for essential reasons. This was a hard 2 months where we were all missing being outside.
By mid-May, things fortunately relaxed and we were allowed to walk (with masks on!) for an hour a day. The first day out walking I was a bit nervous, but also nervous as a child, and everyone was looking at each other somewhat suspiciously. The Covid isolation motivated many people to walk regularly for the first time, and some trails were somewhat crowded. As the days passed we soon got used to the new conduction and to keeping clear of each other and notably anyone not wearing the mandatory face mask.
Around Santiago
Santiago is of course famous for its amazing Cathedral and the Caminos (I count 7 Caminos including 3 different entrances for the Camino Portugues), but it could also be known for its splendid parks, children's playgrounds and the many and varied non-Camino walking trails. I counted 6 parks within 1km of my home, plus a wonderful walking path along the Sar stream and its tributaries.
The oldest park, La Alameda, is a fine park for a stroll, known for its Cathedral photo spot next to a massive gum tree, the 'Dos Marias' statue and the small Santa Susana chapel.
Slightly further away from the centre, 2-5 kms, there are several hills with multiple walking paths, notably Monte de Pedroso and Monte de Viso.
Monte Pedroso is the prominent hill to the north-west with antennas on it and splendid views over the Santiago old area as well as the Cathedral.
Monte de Viso is 2kms from the French Camino' s Mt Joy (Monte do Gozo) and has views over Santiago and the 'City of Culture'… a modern, and still unfinished group of buildings which many pilgrims see to the left as they arrive on the French Camino. Monte de Viso now has an interesting 'Mythological trail' complete with elves, witches and other creatures from Galician folklore. Celtic warrior Breoghan stands prominent near the summit, looking over and protecting Galician from invaders.
Over summer Covid fortunately subsided a lot and we could travel a bit… it was great to get back to the beaches. I was lucky to vist the lovely La Concha beach in Donostia/San Sebastian and also the pristine cool water beaches in western Galicia, the 'Rias Baixas' or lower estuaries. I also managed to do quite a few local walks and some mountain biking and road cycling.
As Autumn arrived, the Covid second wave hit us and as winter came, a stronger third wave has developed, possibly because of the new strain of the virus from the UK. For now, we are allowed to walk but not past the council boundary of Santiago..but that does allow a vast number of walks. Cafes and bars are open only for terrace service and must close at 6pm, but soon may be shut entirely. Almost all elderly people in care homes have been vaccinated… as well as staff… and some have had the second dose.
Medical frontline staff are currently getting vaccinated. We are hoping that with the vaccine, travel will be more possible come spring and by summer there will be some return to normality, both on the Camino and in general life.
Cathedral main facade works are finished
The Cathedral works on the main facade have finished and it does look splendid… and inside as well… the colours are more radiant and alive.
The famous Cathedral 'Door of Pardon' is open, this being a special Holy Year, when St James Day (25 July) falls on a Sunday. Because of Covid, the Holy Year has been extended until the end of 2022. Cathedral masses have restarted (with Covid restrictions), Pilgrims' Mass as usual at 12 noon and 19.30pm. There is a mass in English daily at 10.30am in the Pilgrims' Office.
Camino improvements
The main 'French' camino has been vastly improved going down from Mount Joy (Monte de Gozo) dropping down between trees then on a nice cement path and then crosses over the train line and motorway on a path vastly improved from the old rotten timbers that over the years had many of us worried about falling over. Improvements have also been made on the Portugues Camino through Conxo (entering Santiago) and the English Camino north of Santiago through the industrial estate.
I called into the Pilgrim's Office recently and the friendly chap there told me that a few pilgrims are arriving daily, despite Santiago being closed at the perimeter. Most pilgrims are Spanish or from other parts or other nationalities but resident in Europe.
The Pilgrim's Office has been open on a very restricted timetable – when it's closed there is a QR scheme to register to get one's Compostela.
In December 2020 I spoke with a young Argentinian chap who managed to walk the whole French Camino from St Jean-Pied-de-Port with no problems – was St James protecting him?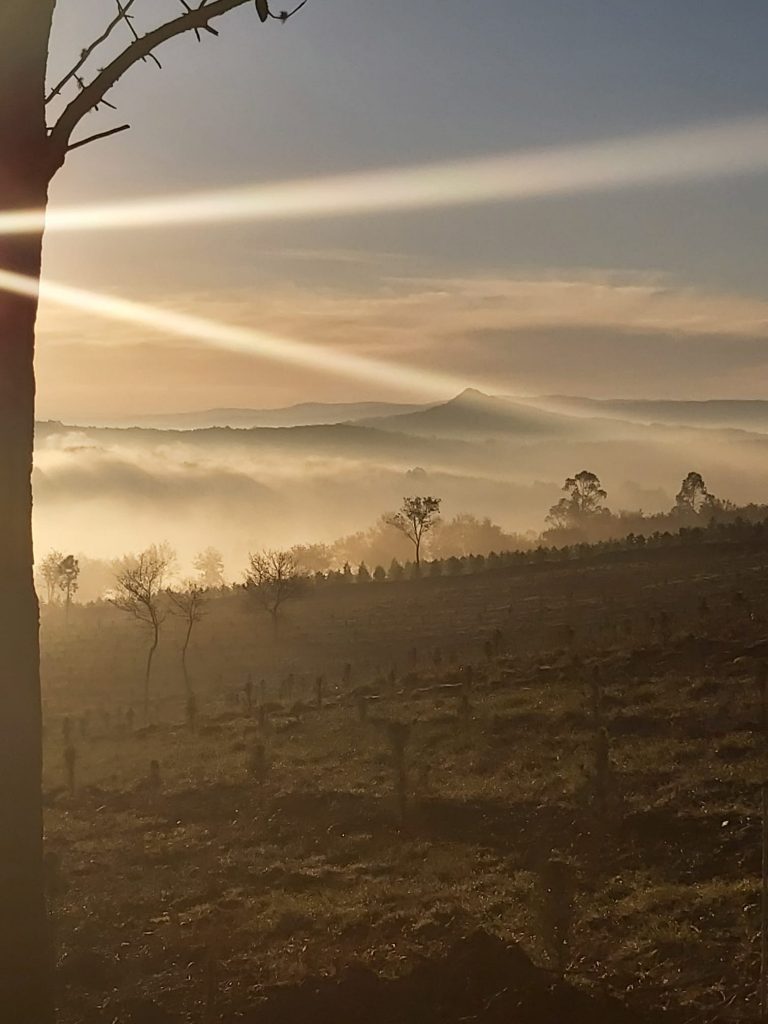 I have many clients booking my guided and self-guided trips from May onwards… with more interest in Autumn – September and October. They are mostly from the UK, Ireland, USA and Canada.
Many Aussie clients are still waiting to see how the vaccine will roll out there and international travel will resume. Some have decided to delay to next year. Accommodation on the Camino will probably reopen more around Easter but it's likely pilgrim albergues will have some restrictions for a while… so some pilgrims will use small pensions, casa rurales and hotels. All accommodation are preparing thorough special Covid measures of cleaning and organising to keep people at a suitable 'social distance'. Masks will probably remain compulsory, though of course when I am walking and there is no one around, I lower the mask and put it on quickly again when I am near anyone.
I started walking and cycling the Camino in Spring 2003 and since then have been on the various Caminos many times each year. Although some friends and clients did manage to walk the Camino in 2020 I didn't because of safety reasons; my first time not on the camino in all those years. So I, like many, miss the Camino and its endless appeal of countryside, chapels, cuisine and camaraderie.
I believe the Camino will bounce back during this year and will help people overcome the psychological effects many have suffered during this difficult time.
To finish, I will quote some prose written several years ago by a now deceased priest which is hanging on the wall of the picturesque chapel in the small mountain hamlet of La Faba, on the French Camino, on the lovely walk up to O Cebreiro. There is an outstanding view from the Chapel and the pleasant albergue next door, looking back down over the Bierzo valley. The view adds to the mysticism of the chapel location. The priest wrote: "Although I may have walked all the Caminos, crossing mountains and valleys from from east to west, if I hadn't discovered the liberty of being myself, I haven't arrived anywhere".
I hope to see more Aussies back on the Camino. Keep walking and cycling and stay safe!
Garry Budin, Santiago de Compostela (Spain)
www.SpanishAdventures.com
garry@spanishadventures.com